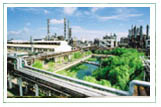 Founded in 1987, Zouping Changshan Jinxin Chemical Plant is situated in Zouping County, Shandong Province, where is the hometown of Fan Zhongyan. The factory specializes in the production of zinc chloride, zinc sulphate, magnesium sulfate anhydrous, calcium chloride, ammonium chloride, ferrous sulfate, copper(II) sulfate, manganese(ii) sulfate, zinc nitrate and other inorganic chemical products.

The factory owns strong technical force and skilled talents, modern equipment, scientific management, thus we can ensure the reliable quality and stable performance of the products. Our products are evaluated as national free-inspection product by Bureau of Technical Supervision of the city. For more than 10 years' test, our products are highly praised by the vast customers.

The manager and all the staff sincerely welcome the old and new customers to visit us and we will provide you with high quality products and excellent services! Various inorganic chemical products can be customized according to your requirement.